The late L Ron Hubbard is famous for Scientology, Dianetics and being a Science Fiction writer, in that order. His legacy of the first two items is questionable however, as an SF devotee, he left behind a free to enter, well-regarded, quarterly competition – Writers of the Future.
Competitions are a spur (out of interest this is one I enter) and the entrants are also provided with a forum. Forums, like most social media are a time sink but there are some worthwhile questions. I've been on the forum several times and here's my answers to some of their questions.
---
I live in Accrington UK. For the geographically minded, this places me slap-bang in the middle of one of the oldest football rivalries – Burnley and Blackburn…that's soccer to the many Across-the-Pondanians :-). I started writing in 2009 and I've written four novels as well as 50+ short stories and several exploratory, novella length narratives. Although I think of myself as an SF writer, much of my shorter works are… well normal. I've been entering Writers of the Future on and off since 2015 (honourable mention plus a silver). Some of my stuff is on Lulu and Kindle; my non-SF stuff includes a book on my home town, Burnley, plus a book of poetry. I'm also a writing group junky.
---
I've upwards of 150 short story collections. Over the years I do revisit them. I was always struck by how an author could produce a great collection and then come up with an absolute stinker. Some of the best include:
The Green Hills of Earth (Robert Heinlein – from his Future History)

Neutron Star (Larry Niven – Thrints, Bandersnatchi, Puppeteers – Known Space)
The Illustrated Roger Zelazny (enjoyed this also for the illustrations – I've been a fan of Gray Morrow since his work on El Diablo for DC)
All the Traps of Earth (Clifford D Simak)
Lost Worlds 1 (Clark Ashton Smith – Zothique, Averoigne and Others)
Metamorphosis and other stories (Franz Kafka – I just like Kafka)
The John W Campbell Memorial Anthology (a good guy well remembered)
Spectrum Volume 1 edited by Kingsley Amis and Robert Conquest – the introduction to this volume puts the case for well written Science Fiction – given where the genre is, it's still worth a read – I blogged this series as part of my obituary to Robert Conquest
---
Hindsight's a wonderful thing – you get to be judge, jury and executioner. In the mid 1960s New Worlds Magazine was the premier British SF journal. It was circulated in WH Smith and was a valuable window into the genre. Michael Moorcock then became editor. Moorcock was an evangeliser for New Wave SF. I remember reading about how New Wave SF was going to be good for the genre, and thinking: 'that's impressive'. That was over 40 years back.
New Worlds failed: WH Smith dropped it, it became dependent on Arts Council subsidies and then they pulled the plug. It ceased monthly publication in 1970. The New SF, published just a few months later, laid out all the flaws of the movement to the paying public – yes I bought a copy – it had morphed into a sanctuary for literary self-indulgence.
---
This is different for everyone. Observation of the writing groups I've been to suggests that many depend on a prompt. Professional authors have themes they work to – this I guess will tie into their respective book deals. A prompt seems artificial and forced to me. Themes aren't hard, there are thousands of them just waiting to be explored. The exploration side is different; I have a number of different ways of dealing with the actual process, depending on whether I'm progressing a scene, resolving a plot discontinuity or sharpening up a character.
Those different ways can mean going for a walk, sleeping on it, listening to a relevant musical piece in the car or just plain writing out the ideas (paper or PC). Sometimes, all it takes is a measured discontinuity to the process of writing, to get things to click.
---
Sci-Fi books I have enjoyed (Fantasy another time)
Hothouse by Brian W Aldiss – a delightful take on flora / fauna gone evolution/ecologically crazy
Galactic Pot-Healer by Philip K Dick – Dick on top form Glimmung, the Kalends and the original gig guy Ceramic pot healer Joe Fernwright. What more could you ask for (apart from 40+ novels and 100+ short stories)
Stardust by Neil Gaiman – it doesn't belong here but I'm putting it down anyway – a fan since Miracle man days.
Deathworld 1 by Harry Harrison – before the Stainless Steel rat was Deathworld
Podkayne of Mars by Robert Heinlein – could have chosen many by Heinlein – still the grand-master
The People: No Different Flesh by Zenna Henderson – aliens that are neither distant nor uncaring
Dune by Frank Herbert – excellent working of religious motifs + holy war, the urge to improve the human race + all the accompanying shenanigans and manoeuvrings.
The Left Hand of Darkness by Ursula K Le Guin – fluid sexuality in SF (not too fluid mind)
The Marriages between Zones Three, Four and Five by Doris Lessing – Ms Lessing urges the genre to vacate its ghetto.
Ringworld by Larry Niven – the exploration of artefacts and cultures in SF – yup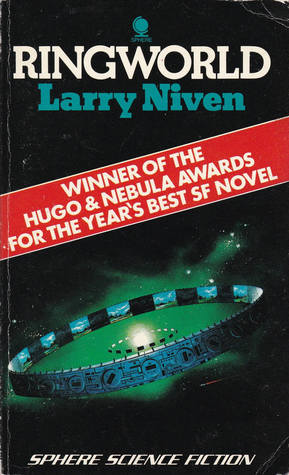 The Mote in God's Eye by Larry Niven & Jerry Pournelle – a gripping account of (one of) the dangers of first contact
Dark Piper by Andre Norton – the collapse of interstellar civilisation, secret animal experiments – a darker Ms Norton
Gateway by Frederick Pohl – more investigation of alien artefacts (Heechee 1)
Dying Inside by Robert Silverberg – a thoughtful look into telepathy
Halcyon Drift by Brian M Stableford – the adventures of a space pilot with character (Hooded Swan 1)
The Eyes of the Overworld by Jack Vance – ah, the Dying earth in all its glory
The War of the Worlds by HG Wells – Mars, ancient Mars brought to a Victorian England in all its tripod glory. When my daughter finished reading the copy she borrowed from me about 5 years back, I'll scan its cover because Goodreads' version of the image I want to use is the pits.
The Time Machine by HG Wells – wow – needs no intro
The Day of the Triffids by John Wyndham – a cure for the world's fule needs – there's just one slight snag
Lord of Light by Roger Zelazny – a reworking of Hinduism and Christianity in a Science Fantasy setting
No Asimov, Anderson, Ballard, Blish, Bradbury, Brin… and many, many others. Plenty of good works between them but I've gone for notable.
---
Initially I wrote my first draft in 3½ months. It was 60k words. Eventually I expanded it by rewriting and restructuring. As it stands it's a collection of peripheral stories that centre on a main character whose line of work takes him through the reason behind the collapse of civilisation. It could be deconstructed into its constituent story lines. The point is: what do you want to say? If you just want to narrate, trial until you hit the right length. If you have a vision, consider using different angles of approach so the beast you are describing gets several perspectives – this being the point of the Elephant in the Room. There are plenty of techniques at your disposal, get them played with!
Testing writing preferences – my experience. I've done four novels, three novellas, the first 20k words of another 4 works, 50+ short stories; and I've ventured out of genre (SF / Fantasy) to poke around in Noir, Americana and Historical Fiction. In addition I've done a book of essays on my home town (Burnley, Lancs), a poetry collection plus I've prepared anthologies for various writing groups. There isn't an ideal writing length – my longest is 165k words and my most common is sub-1,000 words. I'm currently planning novelette sized takes on the future of humanity in space.
The important thing is to write. Once you're underway, you're a ship set sail for distant lands; pace yourself to tell the tale. Don't skimp, get it told and if you get to first draft, then you can consider length etc.